Seaver the Retriever was a pure-breed golden retriever, owned by Dr. Rick Rubinstein. Even when he grew up, he was always a puppy-at-heart. Despite originating from a long line of champion show dogs, Seaver decided to skip show business and settle down as a family dog and beloved hospital mascot.
Since even before Park Avenue Animal Hospital opened, Seaver was its cheerful, welcoming face. His adventures were immortalized (and somewhat embellished) in the Seaver comic strips that appear every week in the Apopka Chief, and on this website.
Before his passing, he could frequently be seen hanging out at the hospital, eager for toys, treats, and any attention. His loyalty, infectious smile, and constantly wagging tail never failed to brighten someone's day. Seaver was a good boy and lives on in our hearts.
---
About Seaver the Wonder Dog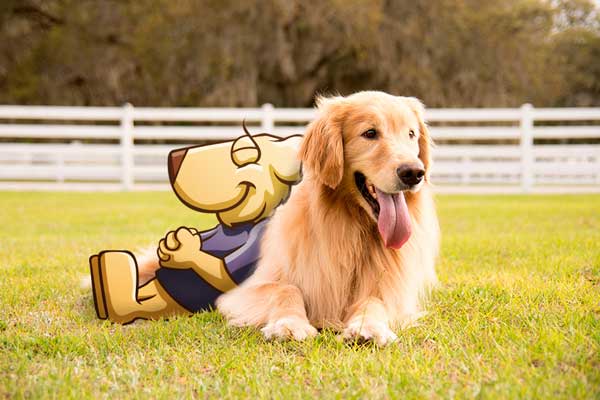 When it came time to find a friendly, welcoming face to represent Park Avenue Animal Hospital, the doctors turned to none other than Dr. Rubinstein's pure-bred golden retriever, Seaver.
With his cheerful smile and playful attitude, Seaver has served as clinic mascot since 2008. His face has adorned t-shirts, postcards, coloring book pages, and scrub tops, and many members of our PAAH family look forward to his weekly adventures in "Seaver the Wonder Dog", a comic strip published online and in the Apopka Chief.
Before his passing, Seaver's fans could often find him hanging around the hospital or sitting with our doctors and staff at local events, wagging his tail and eager for attention.
Check out Seaver's comic and learn why Apopka loves Seaver the Wonder Dog!
---
Seaver Trivia
Seaver was named after one of Dr. Rubinstein's favorite baseball players.
Seaver comes from a family line of show dogs. His father and brother are champions and have even shown at Westminster!
One of Seaver's relatives co-starred in a series of television commercials with Betty White.
Seaver has appeared in over 500 comic strips for Park Avenue Animal Hospital.
Seaver was the model for the dog in our lobby mural.
Seaver's all-time favorite toy was his rubber ball.